Using the History palette
Corel AfterShot Pro keeps a list of all the edits and adjustments you make to every image in your catalogs. At any time, you can open the History palette to see what changes have been made to the active version.
If you are working in File System mode, then the History palette contains only the edits from the current session — previous edits are not retained.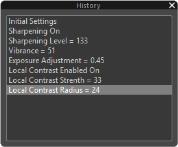 History palette
To open the History palette
•
From the
View
menu, click
History
.
To review edits with the History palette
•
In the
History
palette, click an editing action in the list. The photo will temporarily display the state of the photo up to the selected editing action — hiding all the edits you've performed between the action you selected and the most recent edit.
To return to the last edit step, simply click the last step in the list.