Toast Extras
Toast Titanium includes a number of additional applications to help you capture, save, share, and enjoy your digital media. These applications can be found in the Extras menu.
Extra applications include the following:
•
MultiCam Capture and Editing
Pro extras
The Pro version of Toast includes the following applications and extras in the Pro Apps folder (stored with the Toast installer package):
•
Corel AfterShot™ 3 — RAW photo management and editing
•
Corel Painter® Essentials™ 7— photo effects and painting
•
Additional templates for Toast MyDVD®
Pro apps that you install can be accessed from the Toast
Extras
menu.
Help for applications in the Extras menu
Information about Live Screen Capture is below. For information about other applications, check the Help within the corresponding application.
Live Screen Capture
Live Screen Capture lets you record onscreen action for training, demonstrations, or other video projects.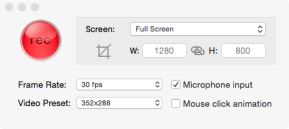 To capture screen action
1
Choose Extras > Live Screen Capture.
2
In the Live Screen Capture dialog, choose Full Screen or Custom from the Screen menu.
If you choose Custom, set the capture area by typing values in the Width (W) and Height (H) boxes or by clicking the Crop button

, and dragging across the screen.
3
Specify any of the following settings:
•
Frame Rate — higher fps (frames per second) settings capture smoother action, but create larger files
•
Video Preset — lets you choose the resolution
•
Microphone input — select the check box to include voice
•
Mouse click animation — select the check box to capture the onscreen pointer movement
4
Click the rec button

to start recording.
5
To pause or resume recording, press Shift+Command+1.
6
To stop the recording, press Option+Command +1, type a filename, choose where you want to save the file, and click Save.